PCMA President and CEO Sherrif Karamat, CAE and Latin America (LATAM) Regional Director Lucio Vaquero today announced the 2022 Regional Advisory Board comprised of 10 members who will act as regional-local ambassadors to amplify the voice and presence of PCMA within the LATAM region. Their leadership and representation of diverse audiences will be integral as the PCMA LATAM team and community continue to advance the meetings industry throughout Latin America.
The following individuals will serve a two-year term:
Rodrigo Cesar, Events & Travel Manager, Roche
Eduardo Chaillo, Global General Manager for Latin America, Maritz Global Events
Juliana Lopez, President, Grupo Heroica
Maria Eugenia Oriani, MICE Manager, Procolombia
Alejandro Ramirez, CEO, BTC
Mateo Salvatto, CEO, Asteroid
Igor Tobias, CEO, MCI Brazil
Elizabeth Tovar, President, Turenlaces
PCMA Global Board liaisons:
Fernado Fondevilla, CEO, Promtur
Ana Maria Viscasillas, President, Business Tourism Services
Staff Board liaison:
Lucio Vaquero, PCMA Regional Director, LATAM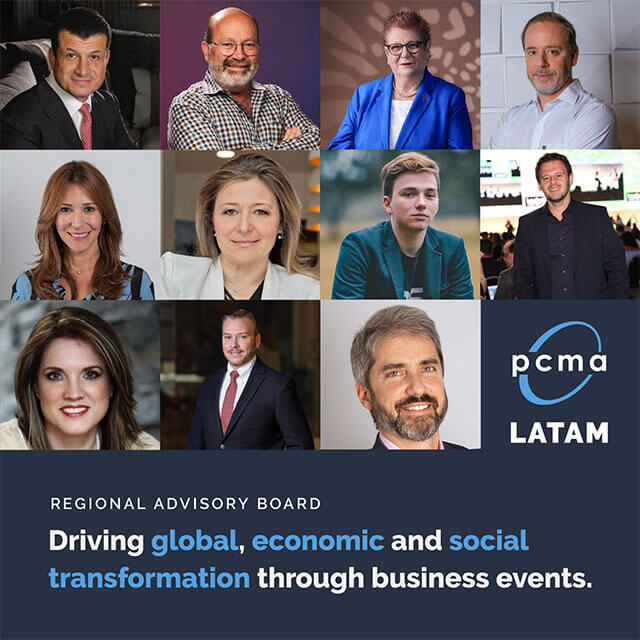 Karamat celebrated this important commitment from industry leaders stating "We will work across every region throughout Latin America to ensure that through business events we are creating better jobs, better opportunities for the citizens of this region. Our intention is to work across every country through education, through business connections, through research and through support of students and the younger generation to develop them so that they can become industry professionals and the LATAM region can achieve the aspiration that they are seeking."
"I am highly honored to have the support of this extraordinary group of professionals and I am convinced that their contribution will be fundamental for the development of our industry in Latin America." said Vaquero.
Imágenes Relacionadas: